In today's fast-paced and competitive business environment, team engagement has become a critical factor for success. Engaged teams are more productive, innovative, and able to adapt to change quickly, resulting in improved business outcomes.  In this blog, we will explore the concept of team engagement, its importance, and some practical strategies that can help organizations foster and sustain engagement among their teams.
What Is Team Engagement?
Team engagement refers to the level of involvement, commitment, and enthusiasm that team members have toward their work, the team's goals, and the organization's overall mission. It involves a sense of connection and purpose, where team members feel valued, supported, and motivated to contribute their best efforts toward achieving shared objectives. It is not just about individual motivation; it is a collective effort that requires effective leadership, communication, and positive team culture.
Why Is Team Engagement Important?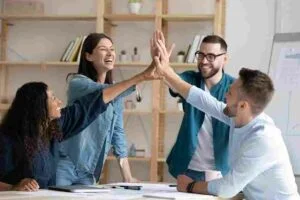 Team engagement is important for several reasons:
Increased productivity: Engaged teams are more productive and efficient as team members are motivated to work towards a common goal.
Improved job satisfaction: When team members feel engaged, they are more likely to enjoy their work and feel fulfilled, leading to higher job satisfaction.
Lower turnover rates: Engaged employees are more likely to stay with an organization, reducing recruitment and training costs.
Better problem-solving: Engaged teams are more likely to collaborate and communicate effectively, resulting in better problem-solving and decision-making.
Increased innovation: Engaged teams feel comfortable sharing ideas and trying new approaches, leading to greater innovation.
Enhanced customer satisfaction: Engaged teams are more likely to provide better customer service, leading to higher levels of customer satisfaction.
Overall, team engagement is essential for organizations to achieve their objectives and remain competitive in today's fast-paced business environment.
How Do You Build Team Engagement?
Building team engagement requires a multi-faceted approach that involves several strategies. Here are some ways to build team engagement:
Encourage teamwork: Encourage your team members to work together and collaborate on projects. Provide opportunities for them to share their expertise and work towards a common goal. This can help build trust, communication, and camaraderie among team members.
Set clear goals and expectations: Clearly define your team's goals, expectations, and priorities. Ensure that each team member knows their role, responsibilities, and what is expected of them. This can help prevent misunderstandings and confusion.
Provide feedback and recognition: Regularly provide feedback to team members on their work and recognize their contributions. Acknowledge their efforts, achievements, and progress toward team goals. This can help build motivation and morale.
Promote open communication: Encourage open and transparent communication among team members. Provide opportunities for team members to share their thoughts, opinions, and concerns. Ensure that team members feel comfortable discussing any issues or challenges they face.
Develop trust and respect: Encourage a culture of respect and trust within the team. Encourage team members to treat each other with kindness and professionalism. Foster an environment where team members feel comfortable sharing their opinions and ideas without fear of judgment.
Provide opportunities for professional growth: Provide opportunities for team members to develop their skills and knowledge. This can include training, mentorship, or new challenges that push team members outside of their comfort zones.
Celebrate successes: Celebrate team successes and achievements. This can include team events, recognition, or rewards. Celebrating successes can help build morale, motivation, and a sense of accomplishment.
By implementing these strategies, you can build team engagement and create a cohesive, motivated team that works together to achieve shared goals. It's important to remember that building team engagement is an ongoing process with regular effort.
How To Improve The Employee Team Engagement Plan?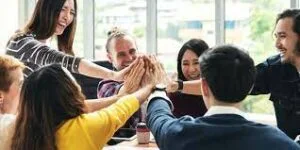 Improving employee engagement requires a thoughtful and strategic approach. Here are some steps organizations can take to improve their employee engagement plan:
Communicate Effectively
Communication is crucial in engaging employees. Leaders must communicate the organization's goals, vision, and mission clearly and regularly. They must also provide feedback to employees regularly to acknowledge their contributions and help them improve. Engage in open and transparent communication with employees, and share relevant news, updates, and future plans. Encourage two-way communication by providing employees with an opportunity to share their ideas and feedback.
Provide Growth Opportunities
Employees want to feel that they are growing and developing in their careers. Employers can help employees by offering training and development opportunities, mentoring programs, and career advancement opportunities. Encourage employees to take ownership of their professional development by providing access to training and development programs.
Encourage Work-Life Balance
Burnout and stress can negatively impact employee engagement. Employers can promote work-life balance by offering flexible work arrangements, time-off policies, and employee wellness programs. Encourage employees to take breaks, prioritize their mental and physical health, and avoid overworking.
Foster A Positive Work Culture
A positive work culture can help build engagement. Employers should foster an environment of respect, collaboration, and inclusivity. Encourage employees to work together, and provide them with the necessary resources, tools, and support to do their jobs. Recognize and appreciate their contributions, celebrate successes, and encourage a positive work-life balance.
Recognize And Reward Employees
Recognizing and rewarding employees for their hard work can increase engagement. Employers can offer incentives, bonuses, and promotions to encourage employee performance. Implementing an employee recognition program can help employees feel valued and appreciated. It can also encourage positive behavior and motivate employees to go above and beyond.
Use Employee Feedback
Employee feedback can help identify areas where engagement may be lacking. Employers can use surveys, focus groups, and one-on-one meetings to gather employee feedback and make improvements accordingly. Listen to their feedback and make changes that are feasible and in the best interest of the organization.
By implementing these strategies, organizations can create an engaging workplace that promotes productivity, job satisfaction, and retention of their valuable employees. It takes time, effort, and commitment from all levels of the organization to achieve high levels of employee engagement, but the benefits are worth it.
 Conclusion
In conclusion, team engagement is critical for organizations to achieve their goals and objectives. When team members are engaged, they are more productive, committed, and satisfied with their work. By creating a collaborative, supportive, and respectful work environment, organizations can create engaged teams that are motivated to achieve their goals. Regularly assessing and improving team engagement can help organizations maintain high levels of productivity, job satisfaction, and employee retention.
Employee wellness programs are the key to improving employee motivation, productivity, and retention. At MantraCare, we have a team of health experts, counselors, and coaches who serve corporate employees with 10+ wellbeing programs including EAP, Employee Diabetes Reversal, Corporate MSK, Employee Fitness, Corporate Yoga, and Employee meditation.