In the modern, ever-evolving workplace, harnessing the insights and perspectives of employees is not just valuable, but essential. Employee surveys serve as a potent tool in this quest, offering a direct line of communication between staff and management, illuminating strengths and weaknesses. And will be shaping the future of your company. This blog will delve into the world of employee surveys, their significance, and strategies for effective implementation. Whether you're a seasoned HR professional or a business owner wanting to create a more engaged and productive workforce, this comprehensive guide will provide you with the knowledge and inspiration you need.
What Is Meant By An Employee Survey?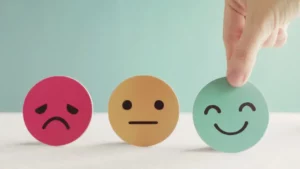 An employee survey, also often referred to as a staff survey, is a feedback tool. It allows employers to gather comprehensive information about the views and opinions of their employees regarding various aspects of their work environment. This could encompass a wide range of topics such as job satisfaction, employee engagement, workplace culture, and much more.
The surveys are usually anonymous to encourage honest and unfiltered feedback without fear of repercussion. And this can be done with the use of several formats. The data gathered from these surveys is then analyzed to identify trends, opportunities, and areas of concern that can inform strategic decisions and initiatives within the organization.
In essence, an employee survey acts as a communication channel that gives voice to the workforce. And provides invaluable insights to employers for improving their business operations. It will then, enhance employee morale, and foster a positive workplace environment.
What Is The Purpose Of The Employee Survey?
The purpose of an employee survey is multi-faceted and contributes to various aspects of organizational health and success. Here are some of the primary objectives:
One of the main purposes of employee surveys is to assess how satisfied and engaged employees are with their jobs. This information can reveal a lot about the overall health of an organization. Also, it can help identify areas that need improvement to enhance job satisfaction and engagement.
Understand Employee Perception and Experience
Surveys are a great way to understand how employees perceive and experience various aspects of their work environment, including leadership, workplace culture, communication, career development opportunities, work-life balance, and more.
Facilitate Open Communication
Surveys provide a safe and anonymous platform for employees to express their thoughts and concerns. Eventually, it promotes open communication between employees and management.
Guide Training and Development Initiatives
Feedback from surveys can provide insights into the effectiveness of current training programs and identify areas where additional training or development opportunities are needed.
Regularly conducting employee surveys and acting on the feedback can demonstrate to employees that their opinions matter. And the organization is committed to their well-being and success. Thus, it will improve job satisfaction and reduce turnover.
So, the purpose of an employee survey is to provide a comprehensive understanding of the employee experience. Further, use that information to drive improvements that benefit both the employees and the organization.
What Types Of Employee Surveys Are There?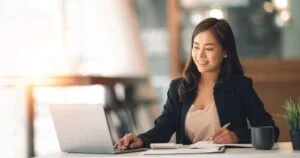 There are several types of employee surveys, each designed to gather information about different aspects of the workplace experience. Here are some of the most commonly used:
Employee Engagement Surveys
These surveys measure the level of emotional commitment and involvement employees have toward their organization and its goals. They typically cover a broad range of topics. That might include job satisfaction, understanding of company values and goals, alignment with the company's mission, and the effectiveness of internal communication. The insights gained can be used to develop strategies to boost engagement, productivity, and overall job satisfaction.
Pulse Surveys
These are shorter, more frequent surveys designed to take a 'pulse' of the current mood, feelings, or attitudes within an organization. They are often used to track changes in employee sentiment over time. Especially during or after significant events like a restructuring, a product launch, or other major company changes.
Culture Surveys
These are designed to understand employees' perceptions of the company culture. They can assess aspects like inclusivity, respect, teamwork, innovation, leadership, and more. The results can inform efforts to enhance or shift the workplace culture to better align with company values and goals.
Onboarding Surveys
These are conducted with new hires to evaluate their onboarding experience. Questions might cover the effectiveness of the training they received, their understanding of their role and responsibilities, and their initial impressions of the company culture. Feedback can be used to refine onboarding processes and improve new hire retention rates.
Exit Surveys
These are carried out when an employee decides to leave the company. They aim to uncover the reasons behind the employee's departure, their overall experience at the company, and any suggestions they have for improvement. This feedback can provide valuable insights for reducing turnover and improving employee retention.
360-Degree Feedback Surveys
In these surveys, feedback about an employee is collected from various sources, including peers, subordinates, supervisors, and sometimes even customers. The goal is to get a holistic view of an employee's performance, skills, and behavior. This feedback can be used for performance evaluations, career development, and succession planning.
Training and Development Surveys
Finally, these are designed to evaluate the effectiveness of training and development programs within the organization. They can assess the relevance of the training content, the quality of the delivery, and the impact on employees' skills and performance. The insights can guide improvements to training programs, aligning them better with employees' needs and company objectives.
Each of these surveys serves a unique purpose. Thus, organizations often use a combination of them to gather comprehensive feedback and insights from their employees.
What Are Common Examples Of Such Questions?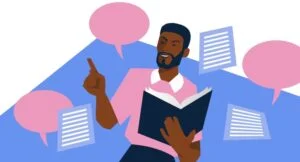 Certainly, here are some examples of common questions that might be included in different types of employee surveys:
How motivated are you to go the extra mile for our organization?
How connected do you feel to your colleagues and to the organization's mission?
Pulse Surveys:
How would you rate your work-life balance this week?
On a scale from 1-10, how stressful was your work this week?
Culture Surveys:
How would you rate the level of teamwork and collaboration in our organization?
Do you feel that our company promotes diversity and inclusion?
Onboarding Surveys:
Were your role and responsibilities clearly explained during your onboarding?
How would you rate the effectiveness of the training you received when you joined?
Exit Surveys:
What factors contributed to your decision to leave our organization?
What improvements would you suggest to enhance the employee experience?
360-Degree Feedback Surveys:
How effectively does this employee communicate with team members?
How would you rate this employee's ability to handle stressful situations?
Training and Development Surveys:
How relevant was the training content to your job role?
How effectively was the training delivered?
Remember, the best surveys often include a mix of question types. Such as Likert scale questions (rate from 1-5), multiple-choice questions, and open-ended questions for more detailed feedback.
Best Practices For Regularly Conducting Employee Surveys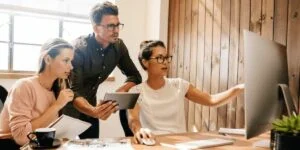 Regularly conducting employee surveys can yield tremendous benefits, from boosting employee engagement and productivity to improving overall company performance. However, to reap these benefits, it's essential to follow best practices. Here are some key ones:
1. Define Clear Objectives: Before designing your survey, clearly define what you hope to achieve. This will guide your question development and ensure you gather the most relevant and actionable data.
2. Maintain Anonymity: To get honest feedback, employees need to feel safe to express their thoughts without fear of reprisal. Assure employees that their responses will be anonymous and used only for organizational improvement.
3. Create Relevant and Concise Questions: Keep your survey focused and concise. Avoid vague or ambiguous questions that could lead to confusion. It's also important to ensure questions are relevant to all respondents.
4. Use a Mix of Question Types: A combination of Likert scale questions, multiple-choice questions, and open-ended questions can provide a good balance between quantitative and qualitative data.
7. Act on the Feedback: Collecting feedback isn't enough. You need to act on it. Analyze the data, identify areas for improvement, and implement changes. Then, communicate these changes back to employees. This shows that their feedback is valued and can encourage future participation.
8. Share the Results: After analyzing the data, share the results and your action plan with your employees. This transparency builds trust and shows employees that their feedback is taken seriously.
9. Seek Professional Help if Necessary: If you lack the resources or expertise to conduct effective surveys, consider partnering with a professional survey provider. They can help ensure your survey is well-designed and the data is accurately analyzed.
By following these best practices, your organization can gain valuable insights from employee surveys. And use them to drive meaningful improvements.
Conclusion
In today's dynamic and rapidly changing business environment, understanding your employees' perspectives is more important than ever. Employee surveys serve as an indispensable tool for this, providing a wealth of insights into employee engagement, and experiences within the workplace. Regularly conducting these surveys following best practices is key to their success.
Ultimately, employee surveys are more than just a feedback tool; they're a powerful strategic instrument that can drive significant improvements in workplace culture, employee engagement, and overall organizational performance.
Employee wellness programs are the key to improving employee motivation, productivity, and retention. At MantraCare, we have a team of health experts, counselors, and coaches who serve corporate employees with 10+ well-being programs including EAP, Employee Diabetes Reversal, Corporate MSK, Employee Fitness, Corporate Yoga, and Employee meditation.